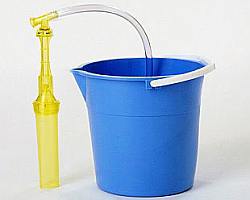 Yellow siphon connected to a bucket used for cleaning the bottom of an aquarium
Regular partial water changes prevents toxic chemicals from building up in the water of your aquarium. It is recommended that around 15 to 20 percent of the water is changed every week or whenever water test results require it.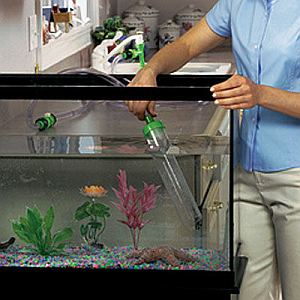 CLEANING TANK WITH SIPHON TUBE
Every week, siphon off any debris that accumulated on the substrate's surface area.
AQUARIUM PHARMACEUTICALS TAP WATER CONDITIONER
MONITORING WATER QUALITY
Check you pH and nitrate levels to make sure that they are within the proper range required by your fish. If not, you can modify the pH in slow intervals through the use of chemical additions. If nitrate levels are too high, the best remedy is to do daily water changes of 20 percent until the levels return to normal. Check your aquarium conditions so that you can identify and correct any problem that is causing the ntirate levels to rise, such as poor filtration, overfeeding or overcrowding.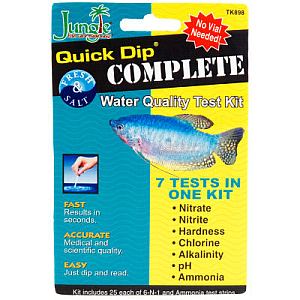 QUICK DIP COMPLETE WATER QUALITY TEST KIT