CALICO BUBBLE-EYE GOLDFISH
Quick Statistics - Bubble-Eye Goldfish
Temperament: Community
Family: Cyprinidae
Native To: Asia , China, Japan
Diet: Omnivore
Food: Pellets, flakes, live food, plants
Adult Size: 6 - 8"
Temperature: 65 - 78F
Care Level: Medium
Scientific Name: Carassius auratus
pH: 7.2 - 8.0
Environment: Freshwater
The bubble eye is another dorsaless goldfish variety with a physical appearance very similar to the celestial goldfish, with the exception of its large fluid filled sacs . The sacs or pouches of skin are attached under and around the eyes and jiggle as the bubble eye swims.These fluid filled sacs can easily be punctured by sharp aquarium decorations so care must be given in selecting the correct type of decor for the tank.
Bubble eye hatchlings begin their lives with normal looking eyes. At around three months, the eye sacs start to develop.
These goldfish can reach a length of six to eight inches. Due to their poor vision, bubble eyes can't compete for food with more agile and active goldfish, so they should be housed with similar and slow moving goldfish.

CALICO BUBBLE-EYE GOLDFISH
BUBBLE-EYE GOLDFISH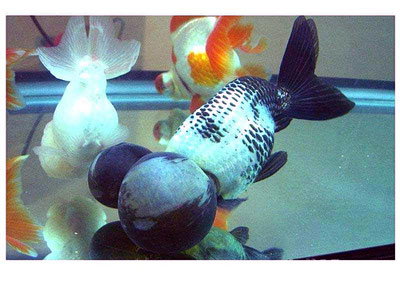 BUBBLE-EYE GOLDFISH
BUBBLE-EYE GOLDFISH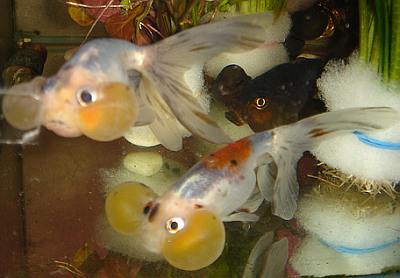 BUBBLE-EYE GOLDFISH
BUBBLE-EYE GOLDFISH