A BEAUTIFUL BLACK MOOR GOLDFISH
Quick Statistics - Black Moor Goldfish
Temperament: Community
Family: Cyprinidae
Native To: Asia
Diet: Omnivore
Adult Size: Moors can grow as large as 10"
Temperature: 65 - 78'F
Care Level: Easy
Scientific Name: Carassius auratus
Life Span: greater than 20 years
Environment: Freshwater
The moor is basically a black version of the telescope goldfish that has a characteristic pair of protruding eyes. It is also called the popeye or black dragon eye goldfish in some countries. This goldfish is very popular due to its velvet like black coat, although this color has been known to change over time on some occasions. The eyes of the black moor usually don't protrude quite so far as those of the telescope goldfish.
As far as the physical appearance of the black moor is concerned, it has a silver belly and a forked tail, with the caudal fins and lobes that are rounded. Its vision is rather poor, making it an unsuitable candidate for a pond. This particular goldfish is also not an agile or fast swimmer, so avoid keeping it in the same tank with extremely competitive goldfish such as the comet and shubunkin.
If given a proper environment, moors can grow up to 10 inches and live for more than 20 years. They prefer a pH level between 6.5- 7.5 and water temperature above 60F.
BLACK MOOR AND FANTAIL GOLDFISH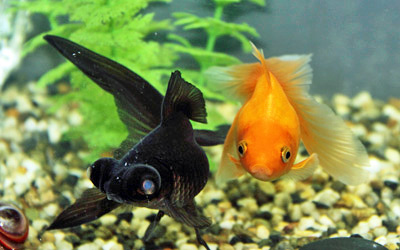 TWO GOLDFISH - A FANTAIL AND BLACK MOOR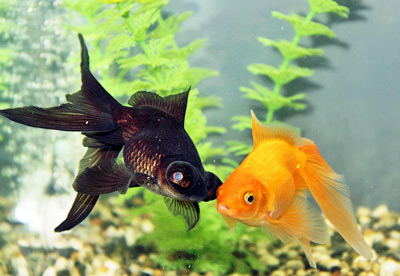 A CUTE BLACK MOOR GOLDFISH