TELESCOPE-EYE GOLDFISH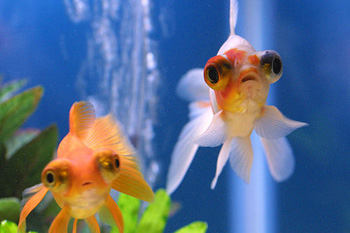 Quick Statistics -Telescope Eye Goldfish
Temperament: Community
Other Names for this Goldfish: Globe Eye, Dragon Eye, and Demekin
Family: Cyprinidae
Native To: Asia
Diet: Omnivore: flakes and pellets
Adult Size: Can grow up to 8"
Temperature: 65° - 78°F
pH: 6.5 - 7.5
Care Level: Medium
Scientific Name: Carassius auratus
Environment: Freshwater
The telescope eye is also known as the demekin, globe eye, and dragon eye goldfish. It has a body and head similar to that of the fantail, with the exception of a pair of protruding eyes.
Telescope eyes are available with scales that are either nacreous or metallic, and their colors can range from red and black to calico.
Due to their unique looking eyes, this goldfish variety has very poor vision so they must be kept with other slower moving goldfish. They should also be kept in an aquarium that does not contain decorations or items with sharp edges or points.
Telescope eye goldfish can grow to a length of four to eight inches and can live ten years or more.

TELESCOPE-EYE GOLDFISH
A NICE VIEW OF A CALICO TELESCOPE EYE GOLDFISH