Dried Fish Food
It is important to remember that overfeeding your goldfish on a regular basis will cause poor water conditions in your tank. A way to avoid this is to premeasure each serving of food so you are not tempted to add too much.

Fish Food in a container
Commercially prepared foods contain the three basic requirements of of carbohydrates, fats, and proteins. They are also supplemented with vitamins and minerals.
Care should be taken when storing dry commercial feeds to insure that the quality of the product is maintained. Moisture and heat will degrade the product. Vitamins are very sensitive to high temperatures.
TETRAFIN GOLDFISH FOOD
WARDLEY TOTAL GOLDFISH FOOD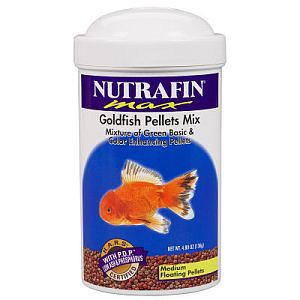 NUTRAFIN GOLDFISH PELLETS
Medium sized floating pellets with low phosphorous to discourage algae blooms.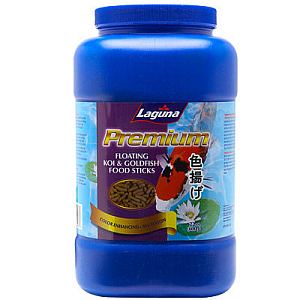 LAGUNA PREMIUM COLOR ENHANCING KOI AND GOLDFISH FLOATING FOOD STICKS
Packaged in UV resistant container to preserver freshness.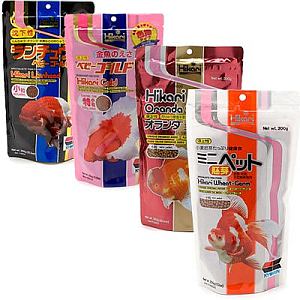 HIKARI GOLDFISH FOOD
High protein fish food in a resealable bag. These pellets are good for goldfish such as orandas, ranchus, and lionheads.
HBH GOLDFISH DISCS